EZdrinking in Hawaii: Maui Cafes & Coffee Roasters
In anticipation of my recent trip to Maui, a friend of mine ask me if I would bring her a pound of Kona coffee back from Hawaii. Before her request I hadn't thought much about looking for good coffee in Maui and I assumed that Kona coffee was just another "exotic" gimmick tourists brought home like macadamia nuts. However, I was pleasantly surprised at what I found. First, I learned that Maui has had an operating commercial coffee farm since 1988, growing four varieties of arabica coffee: Red Catuai, Yellow Caturra, Typica and Moka. Second, I discovered a couple of local coffee roasters who know what they are doing and how to get their coffee to sing.
Maui Grown Coffee
Maui Grown Coffee operates the 500 acre Ka'anapali Estate where all of Maui's coffee is grown. The estate represents a small portion of land that once belonged to the historic Pioneer Mill Sugar Company. The estate is open to the public with paved roads and viewing platforms throughout the farm that provide excellent views of the plantation as well as the Ka'anapali coast. The estate is situated on the West coast of the West Maui Mountains and ranges from 350-1800 feet above sea level. The coffee trees seem to thrive in the rich volcanic soil, warm sunshine, and cooling trade winds.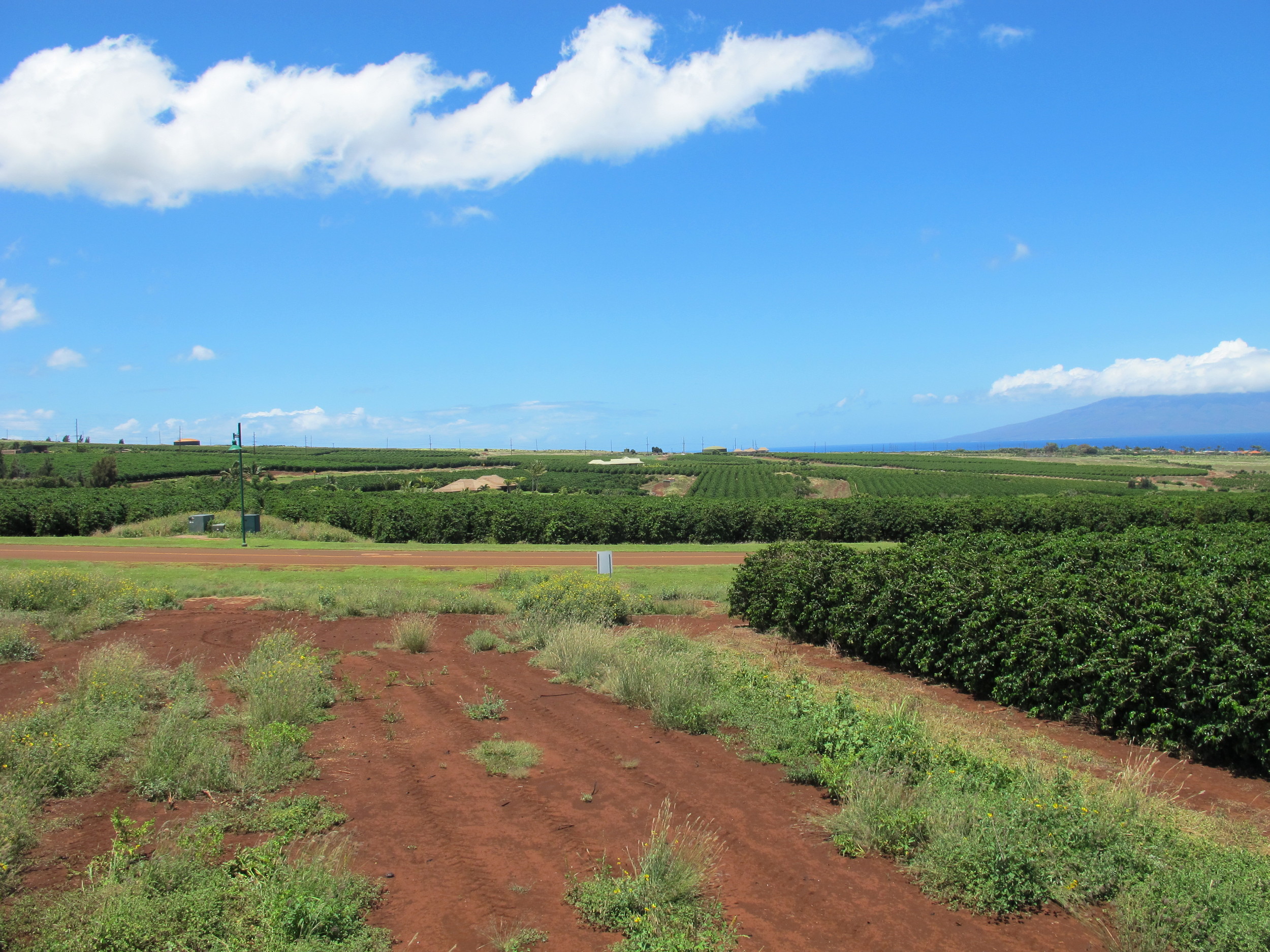 A short drive South of the Ka'anapali Estate is Maui Grown Coffee's Company Store in Lahaina. The Company Store offers a variety of roasted whole bean blends as well as green coffee for those that like to roast their own. The company store cafe also does a great job of educating the customers that come through by offing a free flight of all their brewed coffees. The flight moves from light to dark through their single variety and coffee blends. I particularly liked their peaberry; a medium roast coffee that was bright with nice fruitiness on the front end and finished with a well rounded earthiness. After the flight, I ordered an iced version of the peaberry which has enough sweetness and balance as not to need any cream or sugar.
Maui Coffee Roasters
Not far from Maui's Kahului Airport, Maui Coffee Roasters Cafe is a must visit for any serious coffee lover. Founded in 1981 by Nicky Matichyn, Maui Coffee Roasters (MCR) offers a variety of single origin coffees including two coffees from the Big Island and one from Maui. The cafe has a standard menu of brewed coffee, espresso drinks, tea, pastries, and sandwiches yet it is clear they pay close attention to the quality of their ingredients and process. Despite being in a nondescript shopping center, the cafe has a quirky neighborhood feel with a mix of regulars, locals and tourists.
Without a doubt Maui Coffee Roasters is hands down the best place for coffee on the island. In four visits I sampled five coffees: an espresso, a cappuccino and three single brewed coffees from Hawaii. The espresso was sweet with a counterbalance of clean acidity. The flavor was a rich mix of dark chocolate and crème brulee. Their cappuccino was good, though I wasn't crazy about it. However, my less than enthusiastic opinion of it has more to do with the fact that I prefer, what one might call, "Third Wave" cappuccinos, common in specialty coffee shops, that are more like short lattes than traditional cappuccinos. As for there brewed coffee, they are quite delicious. Their 100% Kona Extra Fancy is a lightly roasted coffee that starts off with lots of rich roasted notes that, as it cool, becomes brighter and the fruity notes start to sing. Their Ka'u Estate coffee comes from the Big Island just South of Kona and it is full bodied, with notes of cacao and cherry jam. The finish was long and dry which allowed me to linger over it while simultaneously wanting another sip. Finally, their Maui Red Roster is a dark roasted blend of Caturra and Mundo Novo varieties. The cup is full bodied and has a pleasant taste of toast with raspberry jam.
Anthony's Coffee
Founded in 1995, Anthony's Coffee Company is a quaint and comfortable coffee shop located on the North Shore of Maui. Anthony's is right on Hana highway in the heart of Paia, a relaxed beach town that it popular with locals and tourists. But despite its great location and nice ambiance, I found Anthony's coffee a little disappointing. Anthony's sells dark roasted coffees made from both international and Hawaiian coffees. Like many traditional roasters who veer towards dark roasts, Anthony's seemed to miss the perspicacious point at which the richness and complexity of the coffee is masked by the roasting process. The espresso I ordered was overly bitter, with a dry almost ashy mouthfeel and void of any real character.
Now to be fair there are a couple important factors that need to be taken into consideration before taking my assessment of Anthony's as gospel. First, I only had the one coffee one time. Second, it is possible that shot was pulled poorly by the barista or third, the coffee itself was bad. I do not have enough coffee tasting experience to identify the difference yet. Fourth, and probably most importantly, I had my coffee awakening in the Bay Area with a cup of Ritual coffee. The Bay Area is known for its lightly roasted coffees and I know that they are defiantly what I prefer. That being said I have also had some traditional dark roasted Italian espresso in North Beach that were fantastic. All this to say, the coffee probably started off at a disadvantage with my taste buds. If you like dark roasted coffee, give Anthony's a shot but I can't recommend it.
One Gripe
The only complaint I have about the roasters I visited on Maui was that no one does cold brewed iced coffee. I'm not sure why that is, but in my experience cold brewing iced coffee creates a sweeter cup without any of the bitterness that can develop in over-extracted hot brewed coffee that is then iced. The warm weather called out to be cooled by a refreshing cup of ice cold coffee but I just didn't risk it on this trip. I've been burned to many times by poor quality hot brewed, iced coffee. Aside from that, I was pleasantly surprised by high quality coffee I found and I know that on my next trip my coffee needs are covered.